After a few months hiatus, the
Art Bead Scene Studio
blog and monthly challenge is back in action! I was so excited to see the announcement from my friend, and queen of the ABS, Heather Powers and then totally over the moon when I realized that she's chosen to use on of her gorgeous pieces of artwork to start off the year. (If you love this piece as much as I do, you're in luck! Heather sells prints of her original art over on her Humblebeads website
HERE
.)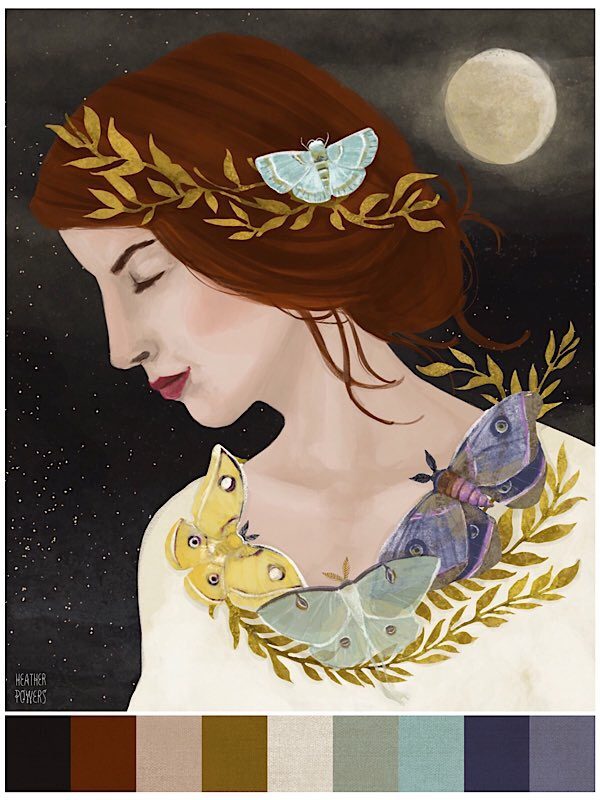 I actually have a gorgeous faux tin piece from Heather that I'd planned to use for this challenge (and still may go back to for a round two) but I couldn't find one of the supplies that I wanted for it easily and got frustrated. (If you saw my mess of a workspace you'd totally understand!) Anyways... I had the bits and bobs handy for a couple of earring ideas, so I started there instead.
First up I grabbed some fun purple and white ceramic tube beads from
Golem Design Studio
that fit nicely with the colors in Heather's artwork. I added a couple of different Czech glass flower shades in various shades of purple to match that lovely moth on the right side. I thought the cute Arte Metal butterfly charms from Vintaj could also work as moths!
Clearly in an earring making mood... I whipped up another pair with some super fun Ghost Moth wing pieces from
Twinkiedinky
! These are pretty long, but oh so lightweight! I paired them with some Mercury finish Czech glass and plated hematite.
Hopefully I'll find my missing supplies as I continue to try to get my studio somewhat under control. If I'm really lucky it will be before the end of the month and I can make my necklace design with one of Heather's lovely faux tin pieces. Fingers crossed! Until then, I'm going to flutter off and try to make a dent in my to-do list.