This month's Art Bead Scene challenge inspiration is
The Star Lovers
by Warwick Goble. It is a watercolor illustration that originally appeared in the book
Green Willow and Other Japanese Fairy Tales
in 1910. You can read more about the artist and the artwork over on the Art Bead Scene blog
HERE
.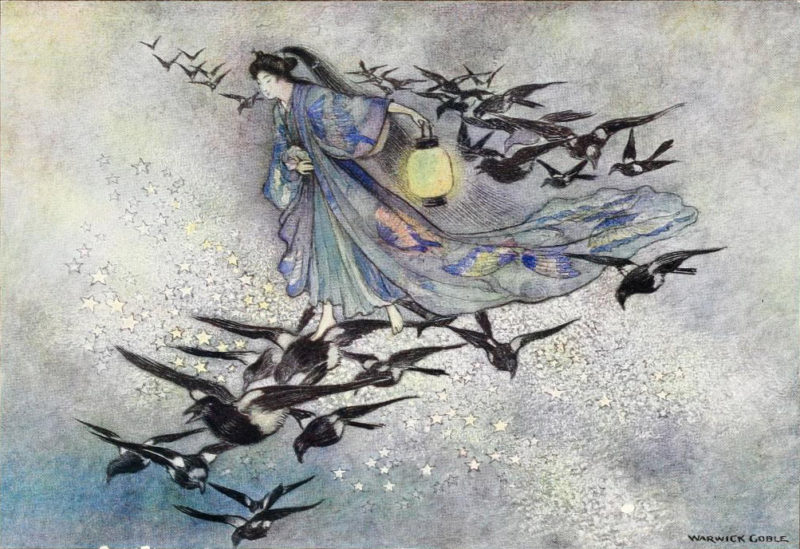 Title: Star Lovers
By: Warwick Goble
Date: 1910
Medium: Watercolor
I was so inspired that this is my second design for the month. You can see my first efforts
HERE
if you missed them. This time I wanted to play more with the bird element and the lighter colors. Here's a peek at the materials that I gathered.
This was one of those moments when I was creating down to the wire. (I was out of town for over a week so that cut into my creating time in an already short month.) I was almost done stringing my necklace when I had some "help" from our boy kitten Poirot... this is the result of said "help." Grrr. Thanks kitty!
Not one to give up easily, I recreated the stringing pattern that I had previously done (I think)... this time with the kittens locked safely out of the basement! Here's the finished product!
The starting place for the design was the fabulous feather pendant by
Green Girl Studios
. At first I was imagining some darker blues, but switched my mind and went toward the grey and pale purple and blue tones instead. I think the result is a more ethereal design than it would have been. There are lots of gemstones in this necklace.... Labradorite, Iolite, plated Hematite, and Druzies all are representing! My photos really don't do justice to the Labradorite faceted rondelles and star cut beads. Rounding out the design are a good number of a lovely blue/purple English Cut Czech glass beads.
Thanks for stopping by to see this very last minute edition to the ABS challenge!