I wasn't sure that I'd have time to make the second design that I had percolating in my brain for this month's Art Bead Scene challenge... but I had some time to kill yesterday and managed to pull it off! As a reminder, this month's artwork is an illustration by Kay Nielsen from a book called
Twelve Dancing Princesses and Other Fairy Tales.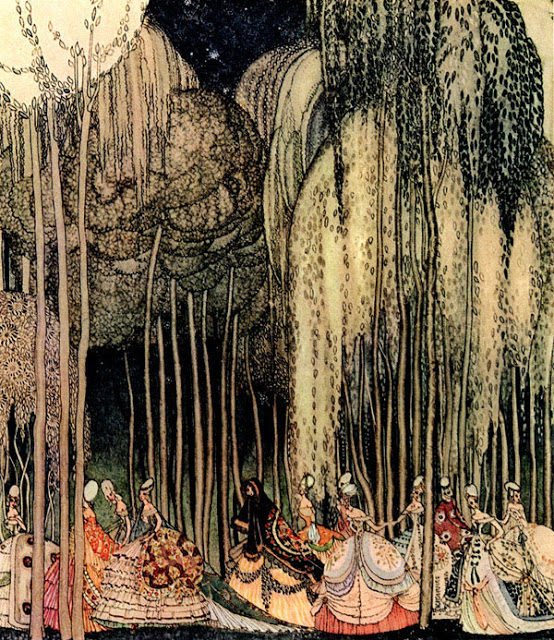 Twelve Princesses on the Way to the Dance
When I was pulling beads for my first design for the ABS this month (you can see that one
HERE
if you missed it) I stumbled on a pair of Patricia Healey copper flower charms that I had picked up in one of Andrew Thornton's de-stash events. Unlike the pair that I used earlier in the year, this pair had some darker areas on the flowers which lent themselves to the inspiration artwork's darker tones. I wanted to play with the long lines of the trees and some of the delicate details of the illustration. To achieve that, I used some fine copper plated chain and added a metal leaf charm and a Czech glass leaf that I wire wrapped with some small metallic copper/peach seed beads.
Ok, that's it for me today! Short and sweet for once.