Well, once again I'm down to the wire trying to get a design challenge finished. Perhaps the fact that I knew that this one was going to be for me to keep for myself caused me to push it to the back burner and focus on other projects first. Either way, I have managed to pull it off at the last minute... I leave for my library conference in the morning and won't be back until July 1st.
This month's inspiration artwork is "Trees Laden with Parasites and Epiphytes in a Brazilian Garden" by Marianne North. Quite the catch title don't you think? North was a Victorian biologist and botanical artist known for foreign travels, writing, and plant discoveries in addition to her botanical paintings. You can read more about the painting and the artist over on the Art Bead Scene blog
HERE
.
Trees Laden with Parasites and Epiphytes in a Brazilian Garden, 1873
As soon as I saw the inspiration artwork, I knew I had the perfect art beads... a gorgeous luna moth focal and accent beads from the talented
Kerri Fuhr
. I really wanted to work in all the pretty accent beads in addition to the focal. Kerri actually sent me quite a few other black and clear green spacer beads in addition to the ones in the picture below so I chose keep the focus on all the lampwork glory.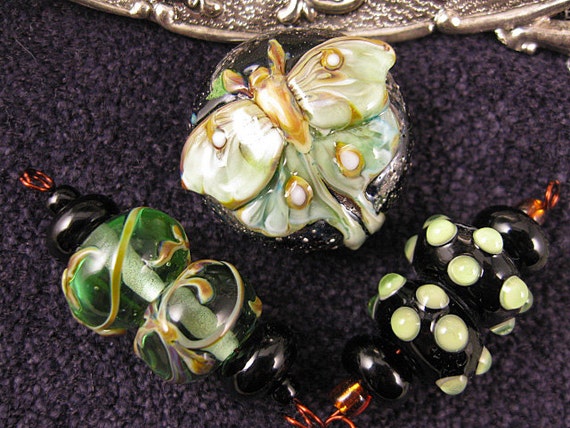 Because of the tan tones in the moth and the green swirly accent beads, I chose to work with brass for my design. (Also, I have a ridiculous stash of Vintaj!) I really only added a few extra czech glass beads and a few brass beads to the mix and made wire wrapped links. A few little dangles from the pendant and I was done. To avoid and Christmasy leanings, I stuck with the black and pale greens from the painting.