This month's Art Bead Scene challenge inspiration is
The Star Lovers
by Warwick Goble. It is a watercolor illustration that originally appeared in the book
Green Willow and Other Japanese Fairy Tales
in 1910. You can read more about the artist and the artwork over on the Art Bead Scene blog
HERE
.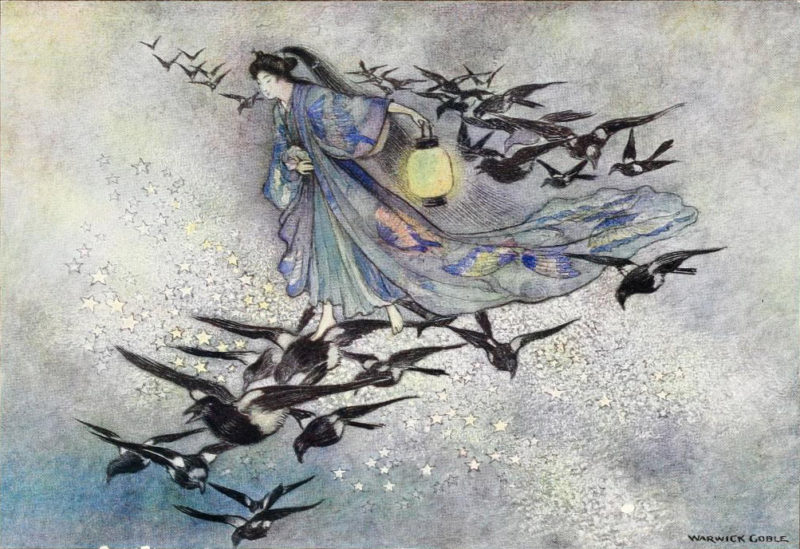 Title: Star Lovers
By: Warwick Goble
Date: 1910
Medium: Watercolor
There is a lot going on in this painting... and so many different directions you could go with it. This is such a enchanting piece of artwork... I can only hope my designs can achieve a fraction of the magic!
For this post I focused on the starry element of the artwork as well as the blue and grey tones. I pulled out a pair of crescent shaped ceramic charms from
Marsha Neal
. I thought I was going to run lengths of chain from the two sides of the charms with some sort of beads at the top connecting things. Before I even grabbed any chain my mind wandered off to some fun beaded "U"s from Anna Pierson of
Saga Hus
. Happily, the size was a perfect fit! Even though the charms have dots instead of stars on them, they are reminiscent of the field of stars to me.
While looking through my little stockpile of Anna's lovelies, I came across a fun set that I special ordered a little while ago. The shape of the glass beads and the color of the sari silk ribbons reminded me of the lantern in the inspiration art. The blue was perfect for the color palette and the stars... well, I told you I was focusing on them this round! I kept my design simple by just adding some etched star charms from Vintaj that I highlighted with a reliefing block. To add a little pizzaz to the long ear wires that I chose, I wire wrapped them with some seed beads in shades of blue. Ta da!
Thanks for stopping by to see my designs! I have an idea in mind for a necklace for this month too... but we'll see if a trip South to visit family and friends will leave me enough time to conjure that up before the end of this short month.