I can't believe how fast this year has flown by me. Indeed, the month of December in particular seems to kind of escaped my grasp. With an open house, my first show in St. Paul, and all the usual holiday shenanigans, it's somehow the day after Christmas! Yikes!
This last Art Bead Scene challenge of the year is
Still Life with Tulips and Fruit Bowl
by Susan Valadon. You can read more about the artist and the artwork over on the ABS blog
HERE
. I love the rich colors in the painting... especially the textile draped beside the table. Lots to be inspired by in this one!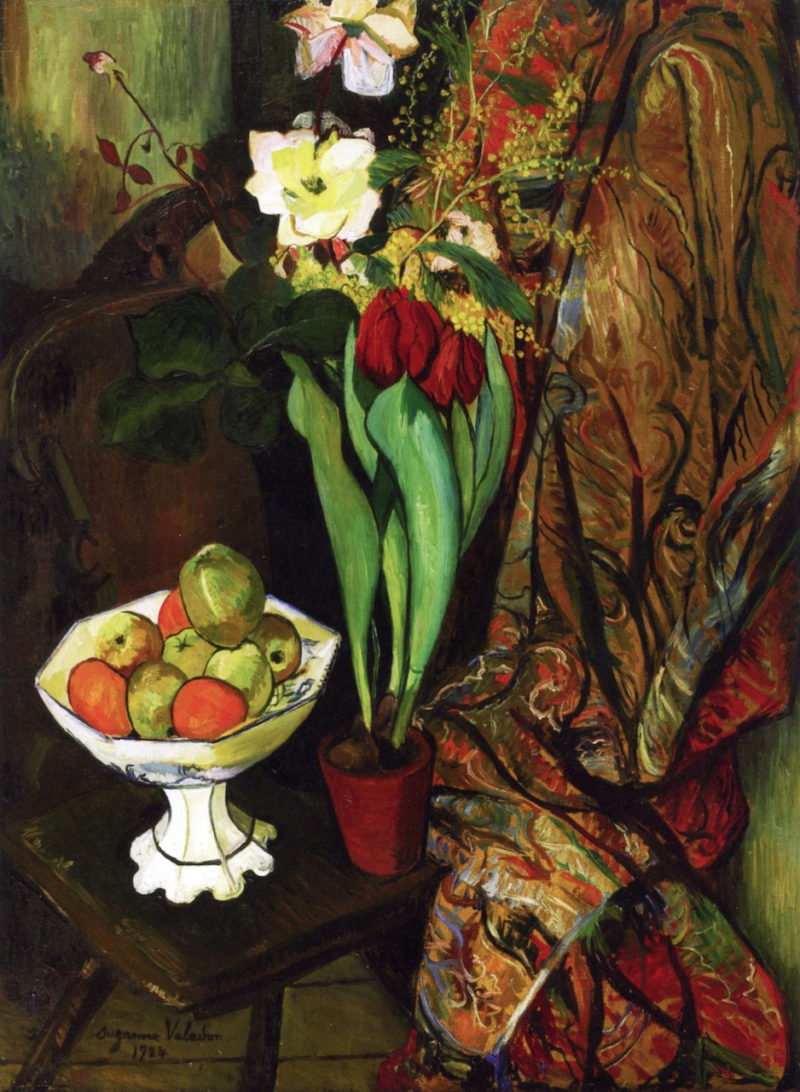 Title: Still Life with Tulips and Fruit Bowl
By: Susan Valadon
Date: 1924
Medium: Oil on Canvas
I've been in a bit of a creative lull the last couple of weeks, but I managed to sneak in some beady play time over the Christmas holiday. I actually whipped up two necklaces Christmas day!!
The first thing I made this month was a pair of earrings with some of Heather Powers' amazing polymer clay charms.
Humblebeads
are often a go to for me on these challenges! I loved the green and gold in the charms and the leafy pattern seemed to fit the painting too. I added some Czech glass beads in a complementary metallic as well as tiny metallic orange flowers with brass findings. I almost went with a green and gold Swarovski pear for the top of the bead stack, but I liked the pop of metallic orange and how it pulled from the warmer colors of the artwork.
I have long loved the poppy flower designs from
Golem Design Studio
(and own them in several shapes and colors, beads and pendants) and this seemed like a good time to break out a green and red pendant from them. I chose a fun mix of red and green Czech glass beads and mixed in some pops of silver with pewter and silver plated pewter beads along the strand.
I was in a stringing mood today apparently, and also whipped up another necklace using a long-hoarded porcelain pendant from Round Rabbit. (I'm slowly working through my collection of her pieces... sad that I may never have another chance to buy more.) This time I went asymmetrical but more subdued in color with my design that uses a mix of jade rounds and rondelles, Czech glass, and brass.
Thanks for stopping by to check out this final ABS challenge of the year! I hope you all had the happiest of holidays and are getting to enjoy some family time as the year comes to a close.
As a P.S. to the ABS editors and contributors... I really enjoyed having the booklet with the entire year's artwork for 2017. I hope you'll do that again for 2018. It was great to be able to start thinking about things a little early and to have future challenges in mind when doing my bead shopping at shows and such.