The inspiration for this month's Art Bead Scene challenge is a painting of the goddess Ma'at from the tomb of Queen Nefertari. You can read more about the artwork and Queen Nefertari over on the ABS blog
HERE
.
Ma'at from Tomb of the Queen Nerfertari
At first I was at a loss for what to create this month. In all honesty, I think all the yellow in the artwork was throwing me off... yellow is most definitely outside my design comfort zone! Then my package of goodies from
Havana Beads
arrived and a light bulb went off when I saw my new lampwork beads in person. I had managed to snatch up a couple of sets of her matched earring pairs (and I'm still kicking myself for not buying the third set she had...) Here's the set that got my creativity jump-started: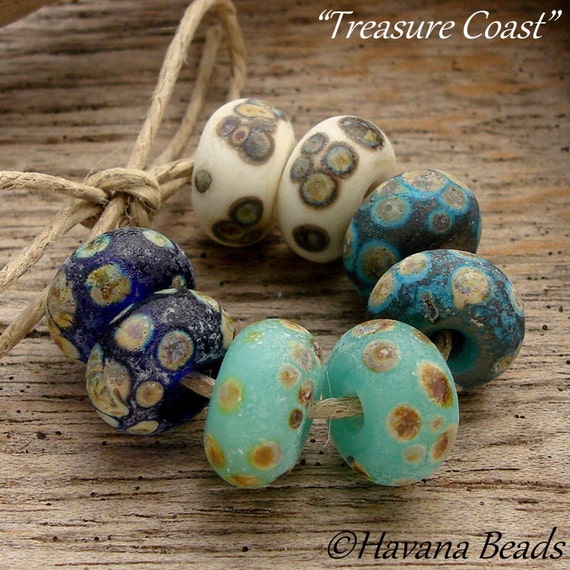 I started out thinking I'd use the cobalt blue pair on the left. The color is very similar to lapis lazuli and that dark blue was the color that resonated the most with me from the painting. The crusty feeling to these matte lampwork beads speaks of antiquity... they could have been uncovered in an ancient Egyptian tomb. (And, by the way, I love that this set is called "Treasure Coast." Seems fitting!)
As I continued to dig around looking for something to pair with my new lampie lovelies, I ran across a pair of little ceramic scarab beads that I bought last October when we visited
Allegory Gallery
(I'm pretty sure that they were some of Eric's picks). Since the scarabs are more of a teal color, I decided to switch to the darker turquoise/teal pair. I don't usually work with gold plated or filled findings, but made an exception in this case. Luckily, I had some gold colored German wire and some other gold beads and findings that I bought in my very early days of beading on hand.
While I don't think I'll run out and start doing a lot in gold tones, I'm really happy with how these earrings came together. I'd like to think that the end result would be fitting for a queen!