A new year and it's time for new challenges! The
Art Bead Scene
is ringing in the new year with a little dose of Pantone's color of the year:
Ultra Violet
! The artwork is
Spring
by Scottish painter Frances MacDonald. You can read more about the artwork and the artist on the ABS blog
HERE
.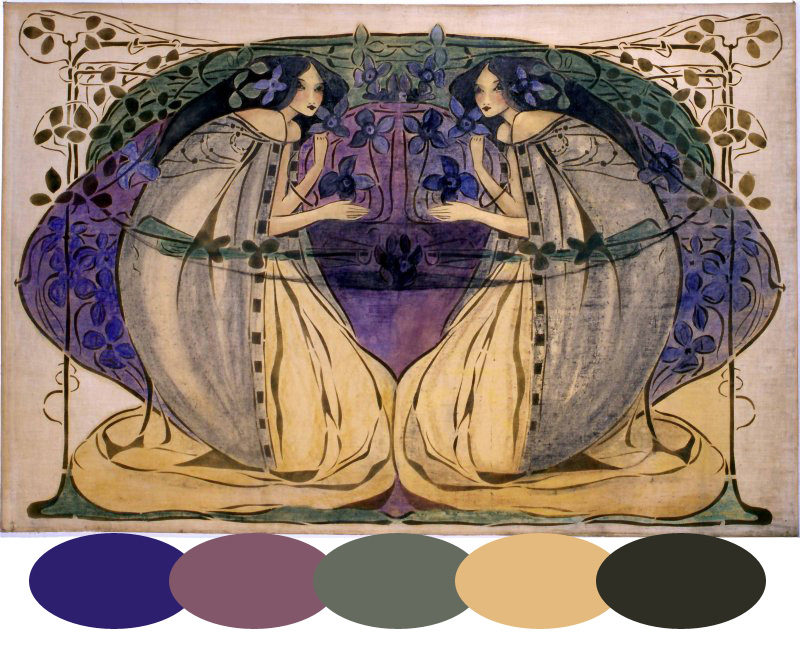 Probably the most perfect art bead in my collection for this challenge was a pendant by Nancy Adams that I picked up in the days of frenzied buying every time there was a Round Rabbit shop update. The purple, cream, and grey plus the lovely detailed floral center were all a natural fit. The shiny purple glaze has some blue undertones to it so I chose some Czech glass with similar coloring. To get the darker Ultra Violet in there I chose some faceted amethyst rounds and popped some cream Czech glass flowers and melon shaped rounds to pull in the lighter tones of the pendant's center and the artwork as well. Green just didn't seem to fit with my design for this one... I don't feel bad taking some liberties with choosing what part of the color palette on which to focus.
I also made a set that is definitely a bit brighter than the inspiration artwork, but I'm sharing it anyway. I got these fun charms and pendant by
Joan Miller
from a destash event with Andrew Thornton of
Allegory Gallery
. I started by making the earrings... in truth I've had the charms and the silk cocoons from Anna Pierson of
Saga Hus
sitting together for a while since I almost made something for a different challenge with them. (Fun fact, these earrings were my first piece of jewelry made in 2018 and the first thing I made with the new kittens rampaging around!) I pulled more pastel colored beads for this necklace to match the pendant's tones. Green Aventurine and frosty looking blue recycled glass rounds contrast with the star cut amethysts. I'm pretty happy with how this one came together.
As is often the case, I'd initially pulled more beads than this to play with. If time allows, I'll circle back for at least one more design before the end of the month. And who knows... if I get around to it, maybe I'll even do something other than stringing!!