Despite spending waaaay too much of my free time wrangling, playing with, and cuddling our three new kittens (now 13 weeks old!), I managed to find time to make one more piece for this month's Art Bead Scene challenge. The artwork is
Spring
by Scottish painter Frances MacDonald. You can read more about the artwork and the artist on the ABS blog
HERE
. In case you missed my first post for this challenge, you can see it
HERE
.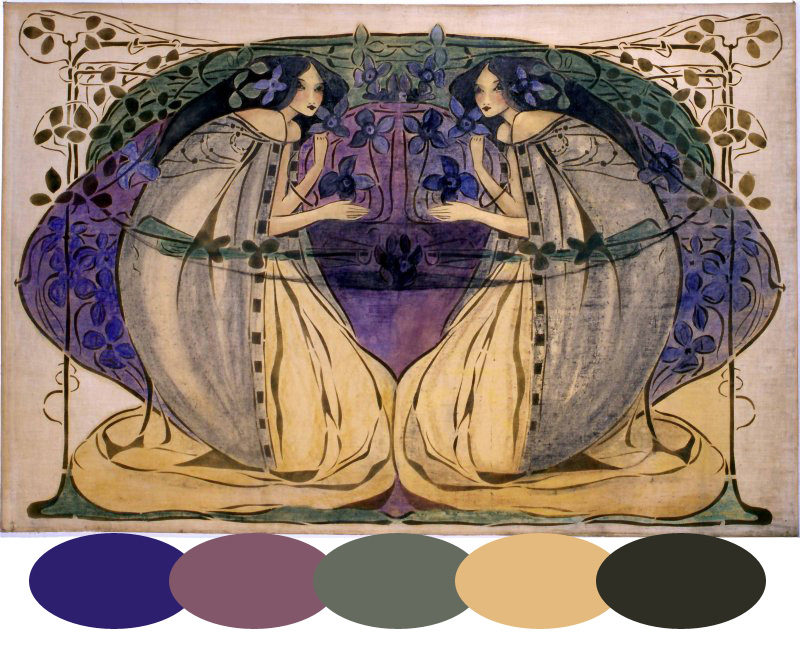 I had pulled out a lot of good stuff when I made my first round of designs for this month, including a lovely focal made by
Lesley Watt.
I even got as far as pulling together a bunch of beads to possibly use with it but it all got shoved to the side when I needed to work on some other things. Here you can see some of what I had pulled together and get a closer look at the pendant.
Happily, I got back to it, turned this fun collection of beads into a necklace, and can now share with you all! I ended up with a slightly asymmetrical design using mostly links made with Czech and vintage German glass beads. I also had some fun flower shaped pewter beads that mimicked the flowers in Lesley's focal quite nicely. It's hard to tell in my photos, but I love that the pendant is a mix of shiny (the flowers) and matte (the leaves). I kind of wish that I had some matte beads in the right colors that I could have worked in, but I had to settle for the small touches of matte antique silver beads and findings to echo that element.
Thanks for stopping by to see this second attempt at the Art Bead Challenge! Now I've get back to the other goodies on my bead board that I'll be sharing next week.