This month's Art Bead Scene challenge inspiration is a painting by French impressionist Armand Guillaumin. You can read more about the artist and the challenge over on the ABS blog
HERE
. I'm pretty smitten with this color palette and have been looking forward to focusing on this challenge.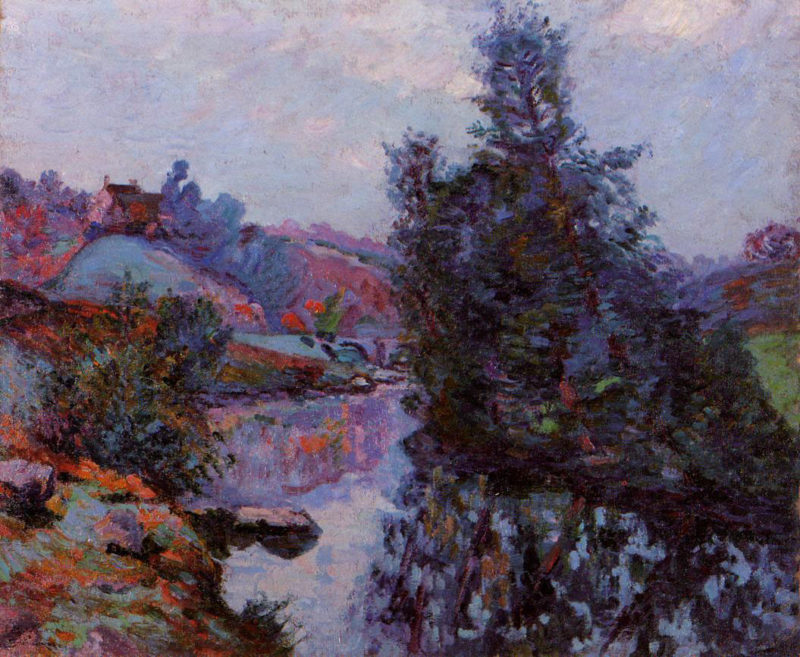 Title: Crozant, The Bouchardon Mill
By: Armand Guillaumin
Date: 1906
Medium: Oil on Canvas
This one really got my creative juices going! Before I knew it I had a bunch of art beads hanging out on my bead mat. The first project that I decided to work on was a great excuse to break out my brand new
Now That's a Jig
that I bought last month. I had the right gauge copper wire to make the charm holder pendant that Heather Powers taught us at her Inspired by Nature retreat, so that was my starting point for my necklace. Two of the charms that I got from the retreat's charm swap (one from Heather and one from my friend Anna of
Saga Hus
) were perfect for the artworks color palette. I added in a ceramic feather headpin from
Artisticaos
to complete the charm grouping. Instead of using leather for the necklace (even though I had some light purple leather that would have worked well), I decided to finish it with chain and some beaded links made with Czech glass and plated hematite.
Keeping with a Heather Powers/
Humblebeads
theme... I had to make a pair of earrings with some earring charms that I bought from Heather at last year's Inspired by Nature retreat! She had just debuted this style and I had to pick up a couple of pairs including a vibrant set that I think works well with the ABS inspiration painting. I added some Czech glass dangles but otherwise kept my design minimal.
I have a couple more ideas rattling around my head for this month's challenge. We'll see if I end up getting back around to them with all my show prep that I have to do. Fingers crossed that I get into my creative groove and really pound some things out!