I'm kind of smitten with this month's Art Bead Scene challenge inspiration. Who doesn't love owls?!? This Art Deco style owl by Lee Lawrie is located on the door to the reading room on the fifth floor of the John Adams Building of the Library of Congress in Washington D.C. You can read more about the artist and the artwork over on the ABS blog
HERE
. As a librarian who has travelled to D.C. a number of times, I'm embarrassed to say that I've never visited the Library of Congress... I'm going to have to rectify that situation on my next trip!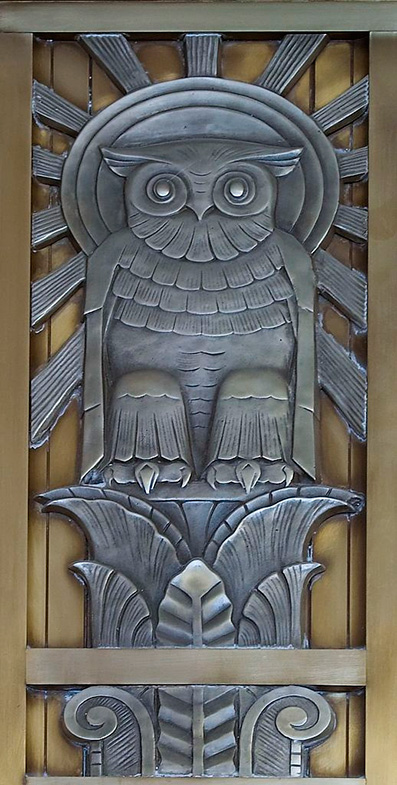 Owl above door to center reading room on fifth floor of the
Library of Congress's John
Adams Building, Washington, D.C., 1930's
I don't know if anyone else had this response, but this owl immediately made me think of Bubo the Owl from the 1981 classic movie Clash of the Titans. (Tell me I'm not alone!)
Bubo!
But I digress... Onto what this owl art inspired me to make this month! I knew I had a number of artisan made owl beads, pendants, and charms in my collection... but since I have things mostly arranged by color, I didn't realize just how many that I had accumulated until I started pulling things out to make some design decisions. I counted 4 different
Green Girl
pewter owls alone!
First up, I had to make use of one of those Green Girl pieces. (I'm doing something with another one but that will be for a different challenge... stay tuned!) In keeping with the color palette of the inspiration artwork, I paired it with a lovely lentil bead from Humblebeads that includes a mix of gold, copper, and dark grey-browns. To give the long chain visual interest, I wire wrapped pyrite and gold colored druzy links. I think the finished product is perfect for fall!
I wish these pics were sharper... They look great in my photo editor!
I decided to use a porcelain owl pendant by Andrew Thornton for a second necklace this month. The colors don't really relate to the inspiration, but the owl was too cute not to use... and the copper and teal color combo just makes me happy. I loved how this new chain looks with the pendant and wanted to give it a chance to shine so I went asymmetrical this time. I made wrapped links using turquoise, bronzite, Czech glass, and Swarovski pearls on one side and simply added some Czech glass dangles to the chain on the other.
Thanks for stopping by and checking out my newest hoot owls!